You're probably very familiar with the ASPPA. No?
When the ASPPA asked me to write an article with video tips for the magazine Plan Consultant, obviously it was a huge, "Hell yeah!"
Then, like you, I had to figure out what the ASPPA was. It's the American Society of Pension Professionals and Actuaries. Make a note, there might be a test.
Next I had to figure out what to offer by way of the best story ideas for videos. Turns out, that was easier than I thought.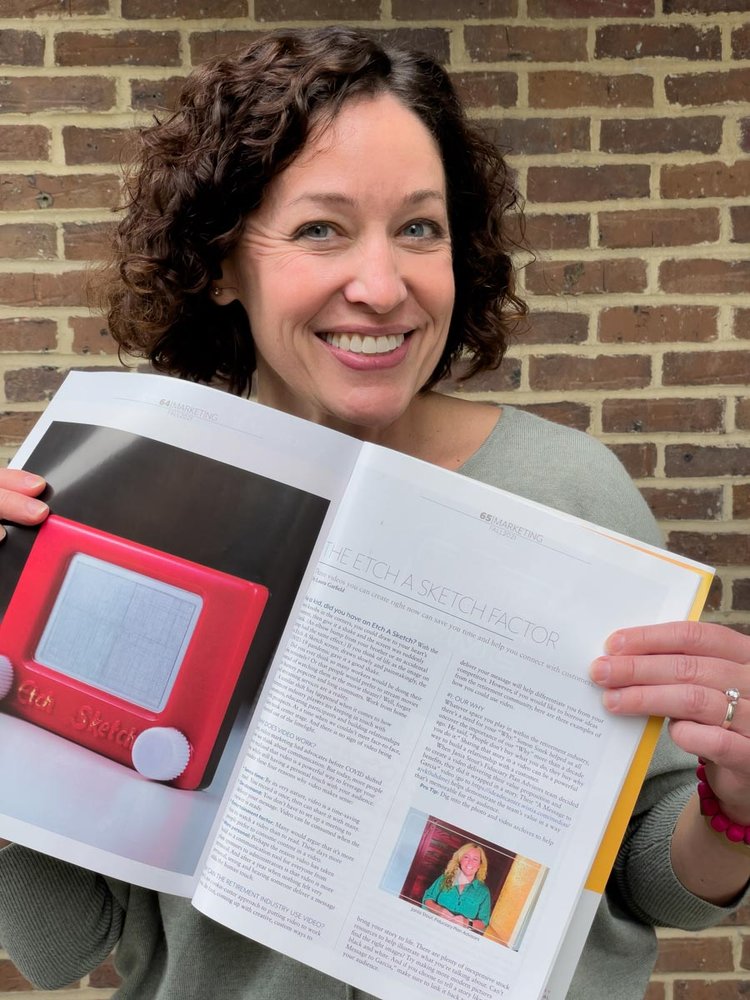 STORIES STAY THE SAME
Luckily, we already work with folks like Shannon Edwards of Tristar Pension and her marketing strategy was strangely similar to all of our financial advisor clients.
At the bottom line, folks in all these sectors are truly talking about the same thing: The Road to Retirement.
Your clients may be different if your an RIA or a TPA, but connecting with your audience is the same. Your referral partners may be different, but including them in your content plan can still be powerful. Your business may be structured differently, but telling the unique story behind your business is just as important.
Stories are what connect us and make us memorable. Here are 3 ideas of how folks in the pension and retirement plan space are using video that will work for you, too!
IDEA #1 OUR WHY
Whatever space you play in within the retirement industry, there's a need for your "Why." Simon Sinek helped us all uncover the importance of our "Why" more than a decade ago. He said, "People don't buy what you do, they buy why you do it."
Sharing that story in a video can be a powerful way to build a relationship with a customer.
When Jania Stout's Fiduciary Plan Advisor team decided to create a video delivering their value proposition and benefits, they did it wrapped in a story. The "A Message to Garcia" lore helps demonstrate the team's value in a way that's memorable for the audience:https://fast.wistia.net/embed/iframe/ajvk0uhdme?wmode=opaque
IDEA #2 CLIENT COMMUNICATION
When it comes to communicating with your customers on high priority needs, what's the best way to get their attention? Video can help deliver a personal message with a little nudge of urgency.
Shannon Edwards of TriStar Pension Consulting knew that year after year, getting customers to turn in their census data was challenging. Creating a video that explained the reasons behind the request helped her deliver the message and leave a positive brand impression with her clients:
https://www.youtube.com/embed/lO_oPGlYcKU?wmode=opaque
IDEA #3 EDUCATION
What does it look like to best serve your plan participants? If delivering digestible how-to content is your answer, video can help. Topical, educational videos are a great way to bring more complicated subjects to life.
The team at CFO4Life has created a series of easy-to-understand educational content. They tackle the most-asked questions they get from plan participants, including, "Why should I start saving for retirement so early?" Chase McMellian and Michelle Hahn explain it in a user-friendly way in this video:
https://player.vimeo.com/video/526147274?h=1252df6767&app_id=122963&wmode=opaque
If these stories sparked an idea and you're ready to get rolling, Idea Kit can help. The unique remote video system will get you set up to record and give you a video that meets your vision and matches the brand you've worked so hard to build. Schedule a free Idea Kit video strategy session here: